So there's this small little film coming out today, not a whole lot of hype or anything, called
Harry Potter & the Deathly Hallows
.
I almost hate to admit it, but I'm really excited about this film, although I didn't go last night at midnight. Whoops. I remember sitting on my couch and devouring
Deathly Hallows
from start to finish the day it came out. And it's been really quite interesting to watch how both the films and the cast of the HP films have matured and consistently gotten better and better. It's really quite an achievement for a movie franchise.
Anyway, from the dark, melancholic look of the trailers and the rave reviews I've read thus far, its shaping up to be the best of the franchise, like
The Empire Strikes Back
of the HP films.
In order to celebrate this cinematic event, I decided to do an illustration about the film featuring a bloodied Harry in a dork forest using his wand to light the way while three Death-Eaters lurk in the background. I went through all of the trailers and clips from the film to get reference for Daniel Radcliffe, as he and the rest of the cast have definitely grown up. In looking up the Death-Eaters, I found a great picture of all of the masks, which are really quite ornate and beautiful.
I also used Photobooth for some quick reference. Despite what I've been told and how easy it would be, I still haven't ever been Harry Potter for Halloween. Maybe I can pull off the Pagemaster.
Below is a gif of my process from pencils to the final illustration.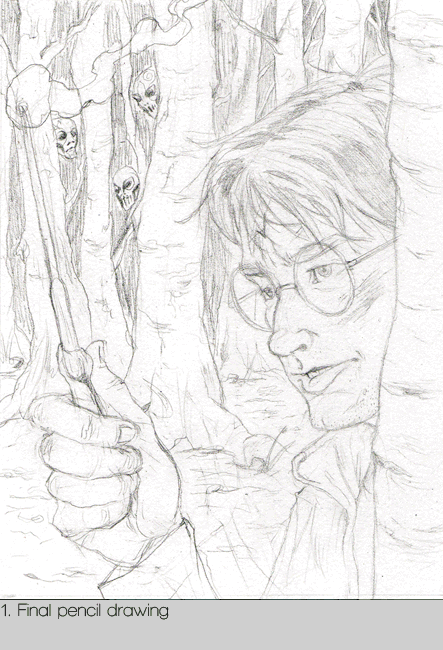 I had a lot of fun throughout the entirety of this piece in trying to convey the darker and grittier tone the HP films have taken on as they draw to a close.
I'll definitely be doing a follow-up piece when the second film is released next summer!
--CKL--